October 9, 2009 -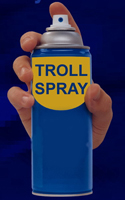 The developer of an iPhone game targeted for its use of the term "Edge" by extreme-litigant and Edge Games CEO Tim Langdell believes that Langdell's lawyers "have fled."

Mobigame head David Papazian told EuroGamer that Langdell "has absolutely no legal grounds" for his trademark infringement claim and that Langdell never actually sued Mobigames for past sales.

The Mobigame in question, Edge, has been republished on the Apple Store, under a slightly new name—Edge by Mobigame.

Electronic Arts filed suit against Langdell and Edge Games over the latter's trademarks, an event Papazian termed "amazing."

In a further twist, Papazian also accuses Langdell of infringing on a Graeme Devine (former id Software developer and ex-chairman of the IGDA, now an Apple employee) copyright, for an Edge Game iPhone title called Firebirds. Firebirds is a copyright owned by Devine claims Papazian, who also charges Langdell with stealing art for the game off of Deviant Art.