September 25, 2010 -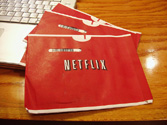 Netflix and NBC Universal Domestic Television Distribution announced an expanded license agreement that will give the on-demand and by-mail movie and TV distribution service to offer more NBC TV shows. The multi-year deal kicks off next week and continues the relationship between Netflix and NBC Universal. The agreement adds more movies and TV episodes that can be streamed instantly from Netflix with a membership.
Netflix will soon offer episodes from every season of NBC's Saturday Night Live, including day-after broadcast of the upcoming 2010, 2011 and 2012 seasons plus hundreds of episodes from the first 35 years of SNL.
Netflix will also offer every episode from the last season of 30 Rock, The Office, Law & Order: SVU, as well as earlier seasons of those shows. Other stuff coming includes Friday Night Lights, Psych, In Plain Sight, Monk, Battlestar Galactica, Destination Truth, Eureka, and more. More details here. No doubt, all of these shows will be available on Xbox 360, PlayStation 3, and Wii.