September 28, 2010 -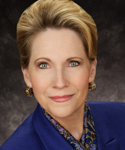 The decision by Utah Attorney-General Mark Shurtleff to support the game industry side of Schwarzenegger vs. EMA has made him a target in the Beehive State.

The latest person to bash Shurtleff is the failed politician, and Utah's "common sense conservative" Cherilyn Eagar. Eagar, who was running for Senator in the state as a Republican—and against Shurtleff, before he withdrew from the race—but did not make the final run-off, took to her blog to bash Shurtleff's decision to oppose the California law.

In the article, entitled "Children Must be Protected from Video Games," Eagar writes that Shurtleff's rationale in backing of the game industry could be adapted in order to "logically argue that it is free speech to allow minors to purchase cigarettes or drugs."
After all, isn't freedom of expression a type of speech? Because of this irrational thinking that donimates (sic) law schools and legal decision-making, Utah is now sadly one of only 10 states on record favoring the sale of harmful materials to minors as the case proceeds to the U.S. Supreme Court.
Eagar goes on to attempt to cite research to back her claims of the impact of violent games on kids, then plays her trump card by embedding a pair of YouTube videos entitled Violent Video Games (Blood and Gore) and Most Violent Video Game Executions (Manhunt HD), but only after warning that the material is "not suitable for children and may not be suitable for you either."

After the videos, Eagar writes:
If you are among those who did not have an intensely nauseated feeling or a repulsed emotional reaction to viewing this violence, then most likely you have already been desensitized by the violence you have been viewing in your media choices over time.
Eagar then hits her stride:
If parents believe it is beneficial for their children to learn eye-hand coordination by controlling the joy sticks that teach them how to viciously vivisect and decapitate prostitutes with chain saws or how to sodomize their victims with broom sticks; if they believe it's good sport to allow their children to terrorize victims by pushing them toward large rotating saws, controlling the torture time and agonizing reactions before being sliced in half; and if they believe their children will sleep better at night by controlling large drills that bore holes through heads or meat hooks that rip through abdomens while delighting in the victims' horrified reactions to their guts spilling out, I would question parental judgment, but that is their prerogative.
After mentioning Shurtleff's earlier "excellent work" in protecting kids from pornography, Eagar notes the $3,000 ESA campaign contribution the attorney general received and offers that "One might reasonably conclude a definite cause and effect between Mr. Shurtleff, ESA and his current position on images children watch."

Eagar urged Shurtleff to withdraw his support of the game industry, saying that he "is misrepresenting the People. And the children."