September 29, 2010 -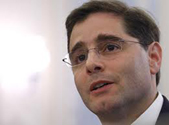 FCC Chairman Julius Genachowski is in the weeds, as House Commerce Committee Chair Henry Waxman (D-Ca.) preps a bill that would set rules for net neutrality. As we detailed earlier, these are not the rules that net neutrality proponents wanted. What started out as a serious pursuit of new rules for broadband and wireless service providers has turned into a stall for the FCC.
Now Genachowski sits on the sidelines, looking impotent to proponents of new regulations. Earlier this year he delayed any decision on net neutrality rules until after the mid-term elections, and handed off the political football to the House Commerce Committee. Groups like New America Foundation's Open Technology Initiative find the FCC's lack of movement on the issue discouraging.
"We don't have a chairman making bad decisions. We just have a chairman that doesn't make decisions," said Sascha Meinrath, director of the New America Foundation's Open Technology Initiative. Meinrath was a member of the Obama campaign's tech advisory group.
Genachowski and his aides say that the criticism is unfair and that the FCC is still working on a number of important proposals.
"I'm impatient, too. This is an important area that touches a lot, and it's important for our economy," said Mr. Genachowski in an interview. "There's a lot to do. There's a lot we've gotten done, but there's a lot to do."
But Free Press disagrees: "To the extent that any FCC chairman has any political capital, they have it in their first year," said Derek Turner, research director at Free Press, a public interest group. "Genachowski spent his first year asking a lot of questions and not taking much meaningful action. It's paralysis by analysis."
Source: WSJ