October 1, 2010 -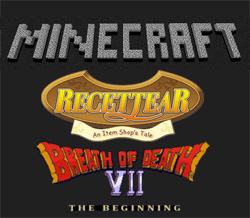 September proved to be a good month for three independent game developers: Zeboyd Games, Carpefulgur, and Mojang. Let us start with the elephant in the room that is Minecraft. It has been widely reported that the developer of Minecraft, Markus 'Notch' Persson, has made $3,787,748 off his game to date - and it is only in alpha! The game is DRM-free, and Persson does not care all that much about piracy. Obviously, that position has not hurt sales.
Persson has reportedly had job offers from Bungie and Valve (he declined) and is now focusing on opening up his own development studio. Here's what Persson told GI.biz:
"Most my time these days is taken up by meetings and lawyers, accountants, banks, potential partners, potential employees, and the occasional interview," he claimed yesterday. "The few hours I do have to develop the game every now and then are mostly spent on looking into bugs and replying to emails."
While Minecraft is the most successful of the three, Carpefulgur's localization of a two-year-old game is doing pretty well. According to an RPS report, 26,000 copies of the RPG-business simulation game from Japan have been sold to date. The game was launched earlier this month on Steam and Impulse. A rough guess is (at $20 a pop before paying out whatever distribution platforms get from the deal and development costs) that Carpefulgur has made $520,000. Not bad for a game about running an item shop.
Finally, there's Zeboyd Games, whose Xbox Live Indie Game Breath of Death VII: The Beginning, has sold 30,000 copies on Xbox Live after five months on the market. The RPG sells for 80 MS Points ($1), which means that this little developer has raked in $30,000. That might seem like a lot in the grand scheme of things, but it is an impressive milestone for a company that clearly did not expect to find so much success.